Keeping Safe Through the Roadmap
The Roadmap set out by the Prime Minister on 22 February and the success of the vaccination programme to date have rightly generated optimism throughout communities for the beginning of a return to normality. However, in order to proceed through the different stages of the Roadmap at the timings indicated, it is essential that we remain cautious and adhere to the social distancing and gathering restrictions.
We have been clear that the Roadmap is driven by "Data Not Dates" – we will be continually reviewing the evidence of transmission of the virus, serious illness and take up of the vaccine rollout as we consider whether we are ready to move to the next stage of opening up. That means that if the situation worsens, we may need to delay some reopening measures to keep the virus under control.
The response of our faith communities throughout the pandemic has been exemplary, with religious groups adapting practices, adopting COVID-secure guidelines for places of worship and supporting some of the most vulnerable across society. As we move into the next phase of the COVID response in which we hope to start reopening sectors more widely, we will continue to look to your leadership and influence to keep communities safe and ensure that we do not lose control of the virus.
How can I keep my community safe?
It is critical that we continue reducing transmission of the virus to enable us to begin reopening wider parts of our society. In order to do that, there are a few key ways faith communities can support the Roadmap:
Follow the guidance – We will update the guidance for the safe uses of places of worship and festivals through each Stage of the Roadmap, and it is essential that communities adhere to the gathering and social distancing restrictions outlined for each Stage to ensure we can move on to the next one in due course.
Get vaccinated, and encourage others to get vaccinated when it is their turn – Over the coming months we will be opening the vaccination programme to more groups. Vaccination is one of our key tools to protect communities from the virus. Getting vaccinated is safe and easy and we want to encourage everyone who is eligible to get vaccinated at the earliest opportunity.
Remain cautious – The Roadmap is of course a cause for optimism but it is vital that we don't move to quickly. Transmission rates remain high across communities and we need to see continued reductions to be able to open up in the timeline indicated. If you or your community don't feel safe to open up for certain activities, for example if there is a local outbreak, wait until it becomes safe for you. Individual faith leaders and places of worship have the discretion to remain closed or take steps to limit activities if they do not feel safe, and local leaders can support communities to make these decisions.
How important is it to follow gathering/social distancing rules for festivals/events if they're only going to change shortly after?
We know that the coming months will see a number of key festivals in faith calendars, including Passover, Easter, Vaisakhi, Ramadan, Holi and Eid. It is inevitable that, since the Roadmap is flexible and driven by data while religious festivals are fixed dates, this may lead to some tensions between these two calendars/timelines. The different Stages of the Roadmap mean that some of these festivals may see restrictions eased, while others will fall before these easing restrictions come into effect. In some cases, the difference in restrictions may be a matter of days.
The indicated dates may seem arbitrary but have been designed with enough time between changes to implement any easing measures and see what impact these may have on community transmission and illness. It is clear from the evidence that every additional day with increased restrictions has a direct impact on reducing transmission and retaining control of the virus. We know that it will be tempting to bend the rules, especially if they are due to change shortly afterwards, but we have all seen how quickly the virus spreads. If everyone thinks they can bend the rules for their friends and family, we could easily see transmission quickly increase.
It is of course the case that if the situation worsens, we may need to delay some of these measures coming into effect. It is for that reason that we would encourage communities to plan for festivals according to the dates set out on 22 February, but ensure there are contingency plans in place in case the situation does get worse, either at a local or national level. We have seen throughout the pandemic response that the situation can worsen rapidly which may leave little notice for communities if restrictions need to remain in place or be brought back. None of us want that, but it is important that we are prepared for any eventuality.
Do I really need to keep the rules if |/my family have been vaccinated?
The vaccination programme has been one of the key successes in our response to the pandemic and is one of the reasons we are optimistic in the timeline outlined in the Roadmap.
While early data indicates that vaccination does produce an immune response and reduce the chances of serious illness and may prevent transmission of infection, we do not have enough evidence yet to confirm this.
We know that social distancing, hand hygiene and reducing social contact prevent the virus from spreading between people and at the moment, these measures remain the best tool we have to prevent people from getting sick with COVID.
While we gather evidence on the efficacy of the vaccination programme both in preventing serious illness and reducing transmission, it is essential that we continue following the restrictions on gatherings and social distancing guidelines to maintain control of the virus and stay on track to ease restrictions as outlined in the Roadmap.
We know that people are getting tired of the restrictions and looking forward to a way out after a year of this pandemic, but every choice we make to follow the guidance, reduce our social contact and maintain distancing brings the next stage of easing one step closer.
Namaste,
As the COVID-19 lockdown eases, various spaces are opening up to activity again including places of worship. The mandirs are also putting into place the guidance for reopening and individual traditions and their temples are already proceeding with their plans. It must be remembered that opening must be done in line with the government guidelines that have been issued in close consultation with the faiths in the UK. These are located at: https://www.gov.uk/government/publications/covid-19-guidance-for-the-safe-use-of-places-of-worship-during-the-pandemic-from-4-july
The HFB has been involved right from the beginning in consultation with various government ministries and departments and local government including the Mayor of London's office. HFB has been actively engaged with all aspects of the impact of COVID-19 on the Hindu community through its President, the Vice-Presidents, and Senior committee members. The guidance given below is a result of these consultations and gives the key principles for reopening of the temples that must be considered and adapted according to the spaces and circumstances of the individual temples.
We have compiled a list of useful resources to assist you in reopening your respective Mandirs and community centres, and to help your community stay safe:
Strengthening Faith Institutions (SFI), has published comprehensive guidance on best practice for reopening places of worship.
Gurdwara Aid are kindly providing free PPE for faith centres across England. Please email

[email protected]

if you are interested in obtaining supplies.
Stay safe.
Regrads,
Mrs Trupti Patel, FCIHT, MSc. H&T, BEng CE, MISTD
President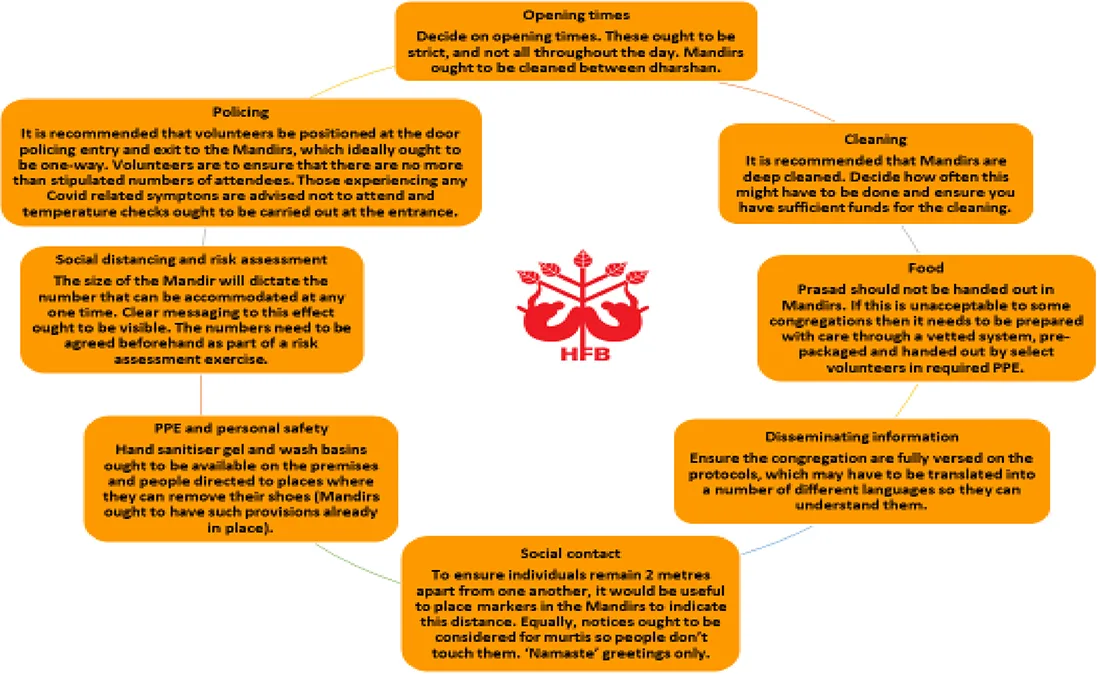 Additional key points to bear in mind are: