About the Hindu Forum of Britain
The Hindu Forum of Britain (HFB) is the largest umbrella body for British Hindus with more than 300 member organisations from around the country. HFB is the first port of call from the central government and the most reported Hindu organisation in the British media.
HFB's activities are broadly divided into three areas:
Public policy and community consultation for the government.
Capacity building and project development for the Hindu community.
Developing good interfaith relations with other faith communities to build a cohesive and inclusive Britain.
At the core of the Forum's activity is a strong belief in the richness and diversity of the Hindu culture, its value system that encompasses for respect for all beings and faiths and a cultural heritage that facilitates community cohesion and coexistence.
Public Policy and community consultation
HFB facilitates consultation and communication to support and influence public policy by providing broad and collective views of the Hindu community on a wide range of issues. HFB also identifies issues and requirements of the community nationally and regionally through its large network of member organisations and links with other Hindu bodies. Some of the consultation exercises conducted by HFB include responses to the Home Office policy on race equality and diversity, the Commission for Equality and Human Rights, QCA and Religious Education Curriculum, Home Affairs Select Committee on Terrorism and Community Relations, Ministers of Religion from Abroad and others.
Capacity building and project development
HFB has identified capacity building as a crucial activity to accelerate integration and social inclusion of the Hindu community in Britain. This is undertaken through initial activities to identify gaps in the community capacity resulting in projects that seek to decrease the gap. Some of the current HFB projects include:
Parliamentary Internships – Increase the participation of young Hindus in the democratic process through an MP shadowing scheme and high-powered seminars and interaction between young Hindus and Parliamentary leaders.
HFB Religious Education Toolkit – Distribute Hindu religious education packs to all schools in selected Boroughs to enable them to teach Hinduism in a standardised way.
Hindu Security Forum at the Met – After the successful conclusion of the Hindu Security Conference, The HFB has set up a Hindu Security Forum with the Metropolitan Police.
Interfaith relations and community cohesion – HFB firmly believes that good relations between the faith communities in Britain will contribute to community cohesion and social inclusion, which are essential ingredients for peace and prosperity. HFB has established multilateral and bilateral dialogues with the umbrella bodies of the other faith communities and plays an active role in the Interfaith Network of the UK. HFB is also represented in the initial consultation on the new Commission for Integration and Cohesion announced by the Home Secretary. HFB has organised many special interfaith events involving different faith communities.
To manage the different projects and execute the various activities of HFB, there are many internal departments that are chaired by prominent members of the community. Each department is set up as a separate committee with its own team:
Secretariat and office – the nerve centre for communications, administration and policy implementation.
Treasury – the management of all our funds, payments, income, budgets and human resources.
Legal Advisory Committee – a panel of expert Hindu lawyers to advise HFB on legal and constitutional matters.
Strategic Planning Committee – a panel of business persons who organise fund raising events for HFB.
Media and Publications Committee – the public relations and media coordination unit of HFB.
Membership Committee – a team of volunteers who communicate and cultivate HFB members.
Events Committee – a team to manage cultural and other events organised by HFB.
Interfaith – a team to establish multilateral and bilateral dialogues with the umbrella bodies of the other faith communities.
HFB Chaplaincy Board – Training and accrediting chalplains for placement in Universities, Prisons and Hospitals.
Miscellaneous – communication, census, etc.
Representatives of HFB are appointed to advise the following bodies:
Interfaith Network UK
Religious Education Council
Race Hate Crime Forum
London Criminal Justice Board
London Faith Forum
Metropolitan Police Diversity Forum
DWP Ethnic Minority Employment Stakeholder Group
DCA Electoral Policy Division
Academic and Media Watch on Anti-Semitism
Proposed Commission for Integration and Cohesion
HFB Organisational Structure
HFB is run by a democratically elected and appointed National Executive Committee. The National Executive Committee has members from different regional and national organisations, members of the Board of Trustees, and representatives from the others organisations.
HFB also has a Patrons Council comprising of prominent British Hindus and a Spiritual Commission comprised of leading spiritual leaders who act in an advisory capacity. The National Executive Committee elects the Management Committee comprising of the President, Secretary General, Vice Presidents, and the Treasurer who implement the policy formulated by it. Each member organisation of the Hindu Forum of Britain can also nominate a representative to the HFB General Council which meets at least once every year at the Annual General Meeting.
Mrs Trupti Patel B.Eng.( Honours ), M.Sc. H & T, F.C.I.H.T
Dr Ramesh Pattni OBE (DPhil Oxford)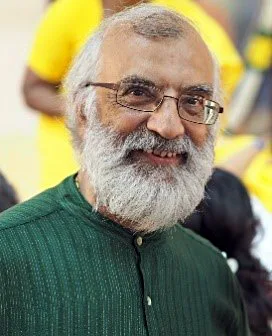 Dr Ramesh Pattni is a psychologist and a Hindu theologian whose research is in the intersection of these traditions. He has deep interest in presenting the psychological concepts, tools and techniques of the ancient traditions in today's world for psychological well-being. He obtained a doctorate from the University of Oxford, Faculty of Theology and Religion, based on his research into Patanjali's text on Classical Yoga – the Yogasūtra, and Western Positive Psychology, comparing the phenomenology of Flow and altered states of consciousness experienced in the meditation of Samādhi. He is considered an authority in Yoga Psychology based on the ancient text of Patañjali.
He also has three master's degrees in psychology, psychology of religion, and study of religion. He tutors at the University of Oxford at both the Oxford Centre for Hindu Studies and is registered as a tutor with the Faculty of Theology and Religion. He gives public talks on Hinduism and holds regular weekly classes through the Chinmaya Mission UK on Hindu scriptures including and the Bhagavad Gita, the Upanishads and the texts and commentaries by Swami Chinmayananda. He has extensively lectured and conducted workshops and retreats on diverse subjects over the past two decades in Yoga and the Non-Dual (Advaita Vedanta) traditions, including self-development and meditation retreats.
He holds or has held many public positions, including, Trustee and Vice President of Chinmaya Mission UK, Vice President of Hindu Forum of Britain, Trustee of DAWN Counselling Services, Trustee of Hindu Education Board UK, Founder and former Co-Chair of the Hindu Christian Forum, former Trustee of Interfaith Network and continues to serve the wider community in the UK and abroad.
He has been recently appointed as Assistant Professor of Psychology at the Chinmaya University in India and will be teaching course to undergraduates and postgraduates.
For his voluntary work in interfaith relations and community services in the UK, he was bestowed an OBE in the New Year's Honours 2020 by Her Majesty the Queen.
Devshi Chothani, Chartered Accountant
Devshi bhai – Proprietor of the firm, DBF Associates Chartered Accountants Manchester graduated in Mechanical engineering from at Manchester polytechnic 1982 and qualified as a chartered accountant in 1990. Now a fellow of the institute of chartered accountants in England & Wales. He has been serving the Hindu community in more than many ways at local, regional and national level and his service as an honorary treasurer of the Indian Association Oldham for the past 20 years is most commendable.
President of Hindu Forum of Europe
Chair, Education Committee - HFB
Chair of Diwali committee